Luckett Vineyards Buried White (750ml)
From greengrocer to grape grower, Pete Luckett's hard work, eye for detail and enthusiasm has made him successful in all of his business ventures. It was only natural that Pete plant a vineyard and open a winery on his breathtaking Gaspereau Valley property. Luckett vineyards produces a selection of wines and styles to suit all tastes.
Tasting Notes
Buried 8 feet underground for 12 months in Hungarian Oak barrels, this Limited Edition wine matures in the same stony, clay-rich soil in which the vines grow. Smoky charcoal and caramel on the nose with an opulent body of baked banana and vanilla bean. A limited production of only 200 cases were unearthed of this rich, dry white. 100% L'Acadie.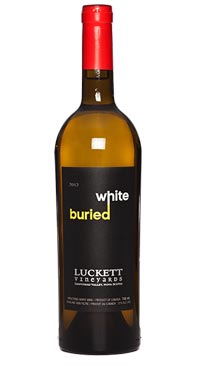 You may also like...