Lunn's Mill Girl, Hold My Earrings Berliner Weisse (473ml)
Beer Style

Berliner Weisse
Lunn's Mill opened their doors in March of 2017 filling growlers and selling out to long line ups in a few hours every Thursday. Today they have a full tap room that seats 100 people and patio. With seven core brews to try, they encourage folks to come up to the bar, sample and let their bartenders guide them in finding a style for every palate. They focus mostly on English Ales, some Lagers, and the occasional IPA.
Tasting Notes
A gorgeous glass of pinky orange colour with effervescent aromatics of raspberry, rhubarb, subtle citrus, and some very light bready notes. The palate is vibrant and mimics a lot of the flavours of the nose. The mouthfeel is light and refreshing with a zippy acidity that will always make you go back for more.
Method
Girl, Hold My Earrings is a Berliner Weisse with additions of rhubarb and raspberry. Chantelle Webb of Lunn's Mill designed the recipe. 
This beer takes inspiration from the Berliner Weisse style, known affectionately as "The Champagne of the North" is a beer with old roots from the German capitol. A very light, low ABV wheat beer that's inoculated with Lactobacillus bacteria to create a tart mouthfeel. Traditionally this beer would have been served along an ounce of woodruff or raspberry syrup as a way to temper the harsh acidity. These days, the acidity is much more restrained, but the process of adding various fruits still holds true.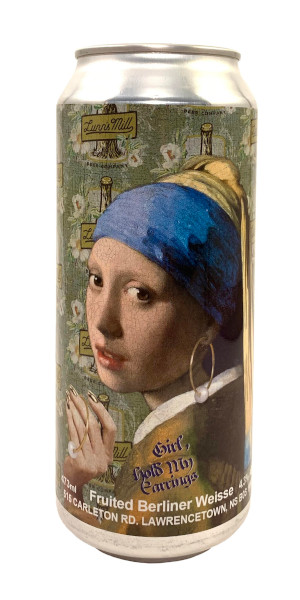 You may also like...