Marco Barba Barbabianca (750ml)
Grape

Other white grapesGarganega

Food Pairing

CheeseRisottoSushi
Marco "Barba", grown up in Madonna di Lonigo, near Vicenza, is the heart (and the face, if you check the label closely) of the Marcobarba project. Since his youth, as soon as he finished the mandatory studies, he began working as a carpenter, but he soon discovered a deep interest for biodynamic agriculture and Rudolf Steiner's anthroposophy. He's thus moved in the Jura canton of Switzerland, to work as a shepherd and agricultural farmer. In 2015, returned to Veneto, he began working with his friend Stefano Menti in the latter's family winery. Thanks to the enologic experiences accumulated in the Menti Winery, he started, in his free time, to produce some wine from the grapes of several vineyards he managed on behalf of a few elderly widows in his native town.
In the following years, with the help of a few friends he met during the years working at Menti, Marco improved the agronomic aspects of his wine production, and since 2018, driven by their passion for biodynamic agriculture and their respect for nature, Marco and his close knit team of "Barbaboyz" have launched the Marcobarba brand. Marco and the Barbaboyz' winemaking and bottling is done in the Menti Giovanni Winery.
Tasting Notes
Fruity, floral and fresh! This white wine is a joy to smell and taste. Aromas and flavours of tree fruit (apple and pear), orange blossom, elderflower and some citrus notes. The palate is zippy and fresh with a pleasing textural roundness mid palate and a lively fruit driven finish. Enjoy this as an aperitif, with mild curries, Thai food, cold salads.
Method
Made via biodynamic and low intervention viticulture and winemaking.  It is predominantly Garganega with other local varietals.  The wine ferments with indigenous yeasts in concrete tanks; ages for 9 months in the same fermentation containers, and it is bottled unfiltered with a small addition of sulfur.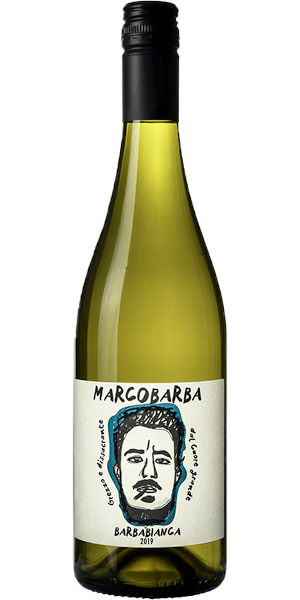 You may also like...