Marco Barba Barbabolla (750ml)
Food Pairing

CharcuterieCheeseSushi
Marco "Barba", grown up in Madonna di Lonigo, near Vicenza, is the heart (and the face, if you check the label closely) of the Marcobarba project. Since his youth, as soon as he finished the mandatory studies, he began working as a carpenter, but he soon discovered a deep interest for biodynamic agriculture and Rudolf Steiner's anthroposophy. He's thus moved in the Jura canton of Switzerland, to work as a shepherd and agricultural farmer.
In 2015, returned to Veneto, he began working with his friend Stefano Menti in the latter's family winery. Thanks to the enologic experiences accumulated in the Menti Wiery, he started, in his free time, to produce some wine from the grapes of several vineyards he managed on behalf of a few elderly widows in his native town.
In the following years, with the help of a few friends he met during the years working at Menti, Marco improved the agronomic aspects of his wine production, and since 2018, driven by their passion for biodynamic agriculture and their respect for nature, Marco and his close knit team of "Barbaboyz" have launched the adventure of the Marcobarba brand, with the goal to produce pure grapes from which they derive straightforward, genuine wines. Or, just like Marco, to make them coarse and irreverent, with a big heart.
Marco and the Barbaboyz' winemaking and bottling is done in the Menti Giovanni Winery.
Tasting Notes
Aromatic, almost tropical, creamy frothy mouthfeel, fresh and seriously gulpable.
Method
From an exclusively biodynamic viticulture, interventions reduced to the minimum and always in harmony with the vineyard.  Barbabolla is mainly Garganega (almost entirely, 90%), backed by other white berry varieties rooted in the territory: Glera, Trebbiano, Moscato and Riesling Italico.  Barba Bolla is a fun way of saying "Barba bubbles" for this wine is done in a pet-nat style with that bit of fizz.  Indigenous fermentation (Marco actually takes a different approach by adding juice from dried grapes to kickstart the fermentation and, simultaneously, the sparkling process).  This wine is unfiltered, no additions of sulfur dioxide; re-fermentation in the bottle with juice from dried grapes and not disgorged, so the yeast remains in the bottle.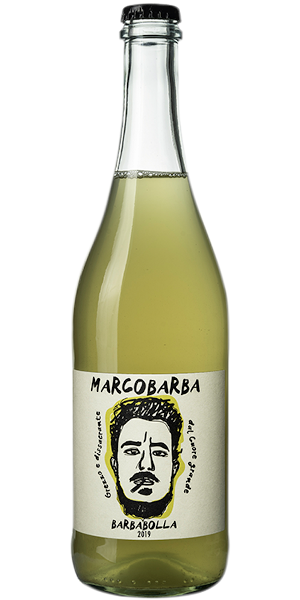 You may also like...