Mason's – Hipster Apocalypse IPA (473ml)
Beer Style

New England IPALeans heavily on late, dry hopping techniques to deliver a bursting juicy, tropical hop experience. Learn More

Tasting Notes

BitterDankJuicy
Mason's Brewing Company is a 20bbl specialty craft brewery, located on the historical Penobscot River in the City of Brewer, Maine.
The founding members of Mason's Brewery have an intense dedication to the craft and place quality above everything else. Regardless of the style, true beer lovers know that one excellent pint will always be more enjoyable than three inferior ones. The brewers take pride in creating the perfect beer with precision, hard work and quality ingredients, whether they are reinventing a traditional style or creating a new, exhilarating taste.
Tasting Notes
Hipster Apocalypse IPA has aromas that starts with tropical guava notes and lead into aromas of pine with big pink-grapefruit juice and slight pithy astringency. A firm bitterness lingers into a citrusy grapefruit-lemon finish. Strongly bitter in the West Coast fashion, but sporting a juicy East Coast hop aroma.
Method
Emphasising hop aroma and flavour without bracing bitterness, the New England IPA  leans heavily on late and dry hopping techniques to deliver a bursting juicy, tropical hop experience. The skillful balance of technique and ingredient selection, often including the addition of wheat or oats, lends an alluring haze to this popular take on the American IPA.
Idaho-7 is the hop of choice in Mason's flagship IPA, a beer that is heavily dry-hopped. Dry hopping in a process where hop pellets are added in heavy amounts at the end of the brewing process, and this contributes lots of hop flavour and aroma without adding too much bitterness. This hop is ripe with zesty tangerine flavor that is reminiscent of marmalade. Its uniqueness shows up as a pleasant herbal character that melds with the citrus to come across like fine earl grey tea.
Our Thoughts
One of our favourite American producers, Mason's brings together all of the best characteristics of the many substyles of IPA in the aptly-named 'Hipster Apocalypse.' Juicy, tropical fruit notes mingle with bitter grapefruit and pine to bring forth a flavour profile that transforms with each sip! Refreshing enough for the first beer garden sip of the season, yet robust enough to drink well into the Fall.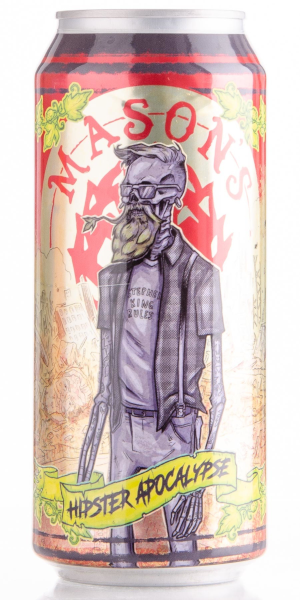 You may also like...
Express Shipping!
For select shipping postal codes, this product may be eligible for Express Delivery! Click here to learn more.