Masottina Prosecco DOCG Valdobbiadene (750ml)
Food Pairing

AperitifProsciuttoRisotto

Sub-Region

Conegliano e Valdobbiadene
Masottina is the historic brand of the Dal Bianco family, a reality born and grown in the hills of the Conegliano Valdobbiadene Prosecco Superiore. The company was founded in 1946 by grandfather Epifanio Dal Bianco, who laid the foundations to produce excellent wines. His eldest son Adriano (an oenologist who studied at the School of Viticulture and Oenology, in the Historical School of Conegliano) is at the helm of the company together with his sons who carry on the production with dedication and tenacity. Dal Bianco family has almost three hundred hectares of vineyards, the majority extend over the hills of Conegliano Valdobbiadene.
The Prosecco hills of Conegliano Valdobbiadene include 15 municipalities. The hill area starts in the north west with Valdobbiadene and ends in the south east with Conegliano, and was acknowledged as 'unique' by UNESCO in 2019 for three main characteristics: the geomorphological aspect, use of embankments and the mosaic-like landscape. The checkerboard landscape comprises forests, small human settlements and the vineyards that produce Conegliano Valdobbiadene Prosecco Superiore DOCG. This is a territory with an ingrained vocation for winegrowing, due to a microclimate influenced by its location between the sea and the Prealps, which ensures a mild climate with an annual average temperature of 12.3°C and the constant ventilation essential for growing healthy grapes. The soil is the second distinctive element of this territory. Its origins go way back to when the beds of the shallow seas and lakes rose up to form the hills. Some were shaped by the Dolomite glaciers as they swept different sediments downhill.
Tasting Notes
Refined and elegant, this wine is pale straw in colour, with fine, lingering perlage. On the nose, sensations of green apples, plums and apricots, but also delicate floral hints of jasmine, acacia blossoms and wisteria. Fresh in the mouth, there is light acidity, which goes perfectly with the fresh, juicy fruit perceived on the nose.
Method
Made from 100% Glera grapes harvested at the end of August, beginning of September.  The juice is fed by gravity into tanks and cool fermented before the second fermentation in which the wine becomes carbonated, which takes place in a pressurized tank.  The wine is then filtered to remove the yeast and bottled.   This Brut Prosecco has 9 g/l RS and a light 11,5 % abv.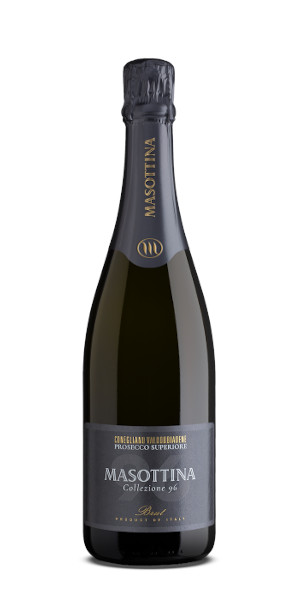 You may also like...