Mayacamas Cabernet Sauvignon 2014 (750ml)
Food Pairing

BeefGameRoast meats
High on the slopes of Mount Veeder, in the Mayacamas Mountains that divide Napa and Sonoma, Mayacamas Vineyards has been a source of legendary California wine since 1889.
Constructed by German immigrant John Henry Fisher, who built the property using stones gathered around the estate, grapes have grown continuously at Mayacamas since the first vines were planted almost 130 years ago. The estate has changed hands, but the quality focus remains consistent.
With vineyards planted at altitudes up to 2,400 feet above the valley floor, Mayacamas is home to some of the highest-altitude winemaking in Napa. Cooler days and warmer evenings offer a long, steady growing season with low yields.
Tasting Notes
"Mayacamas Vineyards is legendary…its reputation for producing amazingly complex, long-lived wines is well-deserved…Mayacamas Cabernets are deeply colored, enormously rich and concentrated wines…these wines live up to their billing. The rewards of cellaring can be awesome. Mayacamas Cabernets are as rich, complex, and structured as any produced in California." James Laube of The Wine Spectator
"The 2013 Cabernet Sauvignon is a huge, dark wine. Virile, imposing and massively structured in the glass, the 2013 is a wine for readers who can be patient. The flavors are dark, bold and incisive, with potent tannins and a real feeling of gravitas to back things up. Black cherry, game, smoke, gravel and licorice add to an impression of brooding intensity. In many ways, the 2013 reminds me of some of the great wines of the 1970s in its dark, imposing personality." Vinous 97
Method
The Mayacamas style begins with an early harvest to preserve acidity and encourage bright, vibrant flavours.
The wines see extended ageing in neutral oak vessels ranging in size from small barrels to large foudres—some in use since the 1920s.
Finally, the wines are released only after further time in bottle, ensuring the elements coalesce into a complete wine. This unwavering approach results in classically-styled, age-worthy wines. Because of the remarkable ability of these wines to continue to improve with decades of aging, the estate holds back a percentage of production for re-release in the future.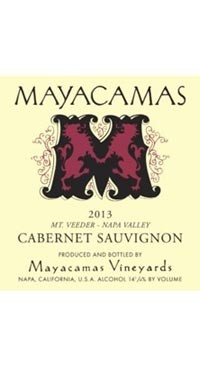 You may also like...