Mercator Tidal Bay Can (250ml)
Farming Method

ConventionalMost products with this label come from producers who do their best to avoid any intervention at all but it's possible that some of the aforementioned preventative measures and additions are deemed necessary. Learn More

Food Pairing

oystersScallopsSushi
Mercator Vineyards is part of the Devonian Coast group of wineries which includes Jost Vineyards and Gaspereau Vineyards. It is a well-known fact that quality wine begins in the vineyard. The team approach that Gina Haverstock and Becca Griffin bring to winemaking and grape growing truly exemplifies this. Gina and Becca began their working relationship together when Becca joined the team at Gaspereau Vineyards as assistant winemaker, followed by interim winemaker during Gina's maternity leave. Mutual respect for each other's focus on quality, work ethic, and passion for wine was quickly established, forming a remarkable and unbreakable team.
Soon after Gina's return to winemaking, Mercator vineyards was added to the company's portfolio. Becca's viticulture training and love of farming made her a natural fit to lead the necessary vineyard revitalization at Mercator. Building on her success in the Vineyards at Mercator, Becca also began managing the vineyard at Gaspereau Vineyards. In addition to her role as Vineyard Manager for both Gaspereau and Mercator, Becca has recently added the title of Winemaker for Mercator to her viticulture roles.
Mercator is a small boutique winery located on some of the most fertile lands in Canada. This is an area which is indivisible from the tidal effects of the Bay of Fundy. The cool climate ensures that grapes retain higher levels of natural acidity (tartaric and malic acid) essential components of flavour, which balance characteristics of ripeness and retain freshness and longevity in wine.
Tasting Notes
Refined and subtle, Mercator's Tidal Bay reflects the overarching style that Mercator wines encompass, expressing delicate notes of lemon curd and apple with nuances of spice and minerality. Notes of apple, custard, lemon rind and subtle spicy notes are delicately expressed on the nose, allowing the fruit to convey a sense of the cool climate where it was grown. There is a unique roundness that presents itself on the palate of this wine while still remaining refreshing and bright. Notes of apple, custard and lemon curd are expressed on the mid palate and linger through into the off-dry finish.
Method
To earn the Tidal Bay designation, all wines must follow a strict set of technical standards that are enforced throughout the winemaking process- from growing to bottling and more.  These standards were created by a committee of winemakers, sommeliers and wine experts.
The 2021 Mercator Tidal Bay is a blend of 50% L'Acadie, 18% Riesling, 12% Chardonnay, 9% New York Muscat, 7% Petite Milo , 4% Seyval.  8 g/l RS.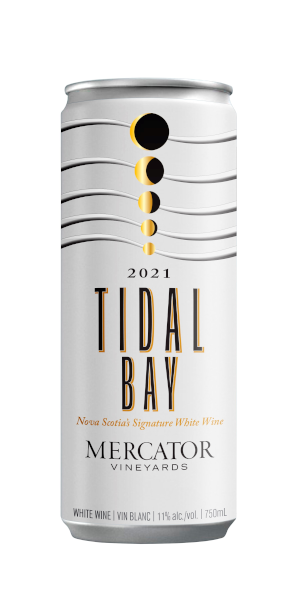 You may also like...