Monmousseau Cuvee Blanc Brut (750ml)
Food Pairing

AperitifSeafoodSushi

Grape

ChardonnayChenin Blanc
In 1886, Alcide Monmousseau founded the Monmousseau House in one of the largest chalky rock quarries in the region. This quarry, abandoned after it had been quarried for building the Loire Chateaux, offered him the finest cellars for wine making which a wine connoisseur could dream about.
The Touraine region of France is characterized by its soil; based on the tuff stone (in which our caves are dug out), covered by granite, clay and flint. It has been said to impart similar characteristics of acidity and earthiness to its sparkling wines as the soil of Champagne; acidity from the chalk and an 'earthy' note from the clay.
Tasting Notes
This pale yellow wine is bright and translucent. Its abundant and subtle bubbles are extremely fine and long-lasting in the glass. Typical of the Chenin Blanc grape, the Cuvée JM is aromatic and nicely fruity. It is the successful blend of a definite liveliness due to the slight acidity of this grape variety and its fruity aromas. Green apple, white blossom and mineral with a wonderful creamy texture, persistent mousse and crisp finish.
Method
A traditional method sparkling made from Chenin Blanc (80%) and Chardonnay.  After primary fermentation, tirage and bottling, the rests on it's side in underground caves, at a natural constant temperature of 12°C for 24 to 36 months. The quality and elegance of this cuvée is mainly due to this long period of maturation which follows the bottle fermentation (secondary fermentation).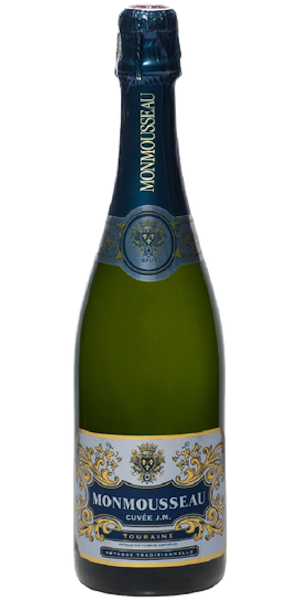 You may also like...