Monmousseau Cuvee Blanc Brut (750ml)
Grape

ChardonnayChenin Blanc

Food Pairing

AperitifSeafoodSushi
Founded by Alcide Monmousseau in 1886, the Monmousseau house in one of the largest chalky rock quarries in the region. Abandoned after it had been quarried for building the Loire Chateaux, this quarry offered Alcide with cellars worthy of aging well-made, traditional method sparkling wine.
Touraine, France is characterized by its soil; based on the tuff stone (in which our caves are dug out), covered by granite, clay and flint. Some say these impart similar characteristics of acidity and earthiness to sparkling wines much like the soil found in the region of Champagne; acidity from the chalk and an earthy note from the clay. Monmousseau grows predominately Chenin Blanc as well as Chardonnay, Pinot Noir, Pineau d'Aunois, and Cabernet Franc- all wines are made by the end of October are left to age on their fine lees.
Tasting Notes
Pouring a pale yellow, it's both bright and translucent; lots of extremely fine bubbles, too. On the nose, aromas of green apple, white blossom, and chakly minerality are bursting. On the palate, those same fruity and floral notes are present with lively acidity and firm minerality- some added creamy texture, too.
Method
Made from 80% Chenin Blanc and 20% Chardonnay, the grapes are harvest in September. After primary fermentation, tirage, and bottling, the wine is laid to rest on its side, at a natural constant temperature of 12 degrees C for 24 to 36 months before release.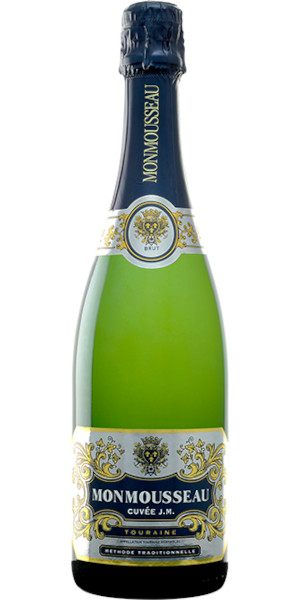 You may also like...