Monte delle Vigne Salice Lambrusco 2016
Food Pairing

BBQBurgersCharcuterie
Monte delle Vigne is in Emilia Romagna, located on gentle hills that slope down from a height of 300 meters to the right bank of the river Taro, deep soils rich in clay and limestone and night breezes that lower summer temperatures make this place a unique terroir. High-density planting, 6,000 plants per hectare, with a strain production that does not exceed 1,5 kg of grapes. Each plant has a productive natural balance that let it express the most of its production potential.
Tasting Notes
Made from 100 % Lambrusco Maestri grapes grown at an altitude of 200 meters on soil rich clay and calcium. 20 days skin maceration with natural bottle fermentation. Ruby colour with purple notes, the bouquet draws you in with nuances red fruits and cherry, the palate is well-balanced and pleasantly dry. Serve around 12C.
Our Thoughts
Lambrusco (meaning "wild grape" in Italian) is a bubbly red that has garnered some unfortunate criticism due to the sugary, sweet wines that were made for our market decades ago. However, this expression by Monte delle Vigne of Emilia-Romagna, Italy (where Lambrusco is most famous) should be successful in changing any doubter's mind. Made from 100% Lambrusco Maestri (1 of 60+ different Lambrusco grape varietals), expect dark fruits such as black cherry, blueberry, and blackberry along with some frizzante-like bubbles. Despite its fruitiness, this natural wine is both dry and full; it would be best used as an aperitif or with your favourite tomato-based Italian dish.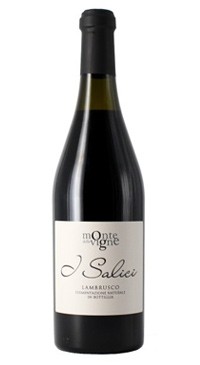 You may also like...