Grape

Cabernet FrancCabernet SauvignonMerlotPetit Verdot

Farming Method

ConventionalMost products with this label come from producers who do their best to avoid any intervention at all but it's possible that some of the aforementioned preventative measures and additions are deemed necessary. Learn More

Food Pairing

SteakLambRoast meats
In 1987, Aurelio Montes and Douglas Murray, both highly experienced wine professionals, wanted to realize their dream of producing Chilean wines a quantum-leap higher in quality than the standards of the time and were the first winery to officially make a premium wine with their 1987 Montes Alpha Cabernet Sauvignon. In 1988, they joined up with the other two founders, Alfredo Vidaurre and Pedro Grand, who brought their own complementary skills and expertise to the venture. Montes is a pioneer in the Chilean wine industry and today produces a range of wines in various category levels, from entry level easy drinking wines to premium and ultra premium wines.
Tasting Notes
Ripe, red-berry aromas of raspberry and strawberry, in addition to plum and ripe grapes. The notes derived from ageing in barrels, such as nutmeg, toasted nuts, tobacco, and a subtle tone of liqueur wine, are well integrated with the fruitiness. On the palate, the flavours gain in intensity. It reveals superb balance, with tannins of outstanding smoothness, ample body, and magnificent length.
Method
This is a blend of Cabernet Sauvignon 80%, Cabernet Franc 10%, Merlot 5% and Petit Verdot 5%, from a vineyard located in the Colchagua Valley, at Montes' Finca de Apalta (Apalta Estate).  The soils are of granitic origin, with varying clay content, depth, and
amount of organic matter.   The grapes were hand harvested during the coolest hours of the day. Bunches were sorted
before destemming, and then the berries went through a subsequent selection process to remove any that were shriveled or green. The grapes were transferred to stainless steel tanks without the need for crushing; they were processed on the top story of the Apalta winery, so that by just falling into the tanks below, their skins were broken enough to release juice, without damaging the seeds.  The fruit remained in the tanks for at least five days at 9°C, which allowed the grapes to release colour and varietal aromatic expression.  The addition of selected yeasts carried out the fermentation process for ten days at 28ºC. Post-fermentation maceration lasted  10 days.  70% of the wine was then racked into French oak barrels.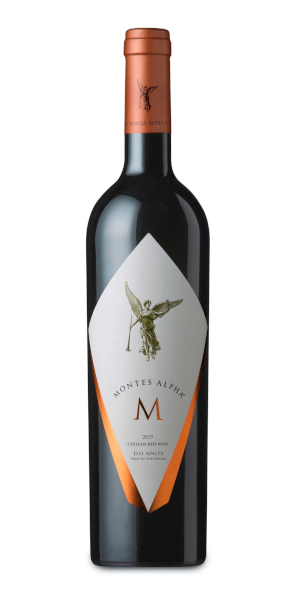 You may also like...