Muskoka Munich to my Ears (473ml)
Beer Style

Marzen/Oktoberfest
A stalwart of the Canadian craft beer scene since 1996 – Muskoka brewery has always made consistent, well rounded beers in a variety of styles to please almost anyone. Starting off slow but becoming one of the more established and well known breweries in Ontario that's now branching into the U.S. and even starting it's line of distilling products.
Tasting Notes
The beer pours a clear yellow gold. The aroma is of sweet malt like freshly baked bread, fresh pretzels, and subtle herbal aromas. On the palate it's malt-forward with notes of bread crusts, biscuits, and background floral note. It finishes with moderate carbonation, good attenuation, and a balanced finish.
Method
Brewed in the Festbier/Oktoberfest style, the Munich To My Ears pays homage to a long line of richly flavoured golden lagers from Bavaria. Featuring Pilsner, Vienna and Melanoiden malts that provide a full and rich malt backbone, along with Hallertau hops that give those classic herbal spicy notes that German lagers are known for. This beer style is meant to drink more than one – I recommend buying two and pouring them both in a big 1L stein!
Prost!
5.5% abv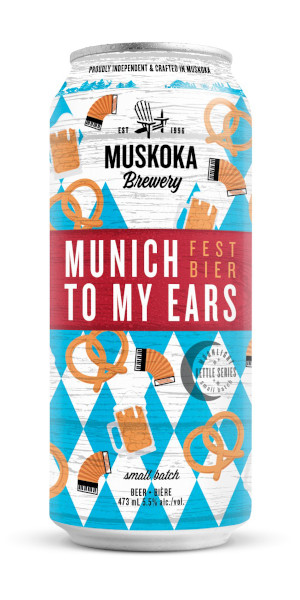 You may also like...