The original Nardini Distillery was established in 1779 near the head of the bridge in Bassano del Grappa in the Veneto region. This location was chosen for its ample water supply which is essential for distilling and also its easy distribution through the series of rivers and canals. Over the years, the distillery has witnessed several battles, the collapse of the Venetian Empire, and the Unification of Italy. Yet through all this change, Nardini has remained a family business now boasting its 7th generation leading the business forward.
This original location is now predominantly a tasting room and historical sight but Nardini's main production is split between their continuous still operation in Monastier and their batch still operation in Bassano del Grappa. Throughout their product range the unifying theme for all Nardini products is quality and balance embodied by the motto inscribed above the original distillery:
"Chi alla vita tiene, beve giusto e beve bene" which means "He who values life, drinks well and drinks right."
Fernet can be understood as a sub-category of Amaro that is differentiated by a higher alcoholic strength (usually 40%+), a stronger and more medicinal flavour, and being much less sweet than a lot of other bittersweet amari.
Tasting Notes
Nardini Fernet is deep ruddy brown and almost opaque in the glass. The nose is rich and mysterious with bass notes of dark cocoa, espresso, cola, and damp earth lifted by accents of mint, wildflowers, and citrus peels. The palate echoes the nose but with a more pronounced minty and medicinal vibe that immediately lets you know you're drinking fernet with waves of complex aromatic spices resonating on the long bitter finish that makes you wonder how they cram so much flavour into one sip.
Truly unqiue, this is excellent as a disgestif or alongside an espresso, but those who are feeling brave will find a dash can add a lot of depth to many classic stirred cocktails.
Method
Nardini uses a combination of distillation methods to create their grappas (a blend of continuously distilled and batch distilled spirits) but this fernet is made entirely at the Bassano del Grappa facility and is all batch distilled. The base for this fernet is all grain and it is batch distilled in smaller stills to promote a fuller-bodied texture. Once distilled the amaro is subtley sweetened with toasted sugar and bottled at 31% alcohol by volume. The main botanicals are Chinese rhubarb, gentian root, mint, and countless other unknown herbs and spices. Nardini Fernet is then bottled at 40% alcohol by volume.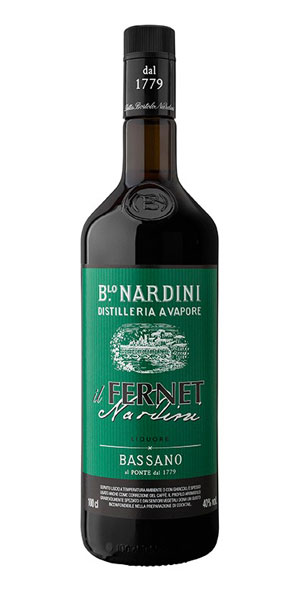 You may also like...