New Belgium Fat Tire Amber Ale (473ml)
After a bike trip through Belgium, and becoming inspired with the beer, founders Kim Jordan and Jeff Lebesch started the New Belgium Brewing Company in 1988. Since then they have gone on to become one of the most recognizable craft breweries in America.
New Belgium has a couple of their flagship beers brewed for the Canadian market by Steam Whistle brewery in Toronto.
Steam Whistle has spent 20 years perfecting their Pilsner and they back that experience with one of the most sophisticated Quality Assurance programs in North America. When you reach for a Steam Whistle, you can be confident you are getting an exceptional beer, every time.
Tasting Notes
Fat Tire's unique flavor profile originates from 1930s Belgium. During this era, small breweries began offering easy-drinking beer crafted with signature Belgian yeast in order to satisfy the tastes of visiting British soldiers. Today, Fat Tire delivers drinkers everywhere a flavorful, balanced beer with a fresh herbal hop profile, fine malt presence and a touch of fruity yeast, making it a timeless beer with broad appeal. This beer has smooth, and rich amber malt aromas of toffee, toasted bread, and a clean finish.
5.2% abv
Method
Brewed with Pale, C-80, Munich, and Victory malts to create a rich malt profile, then with Willamette, Goldings, and Nugget hops. Fermented with New Belgium's house ale yeast. 22 IBU
If you like Sam Adams Boston Lager, Brooklyn Lager, or Anchor Steam – then you'll like this!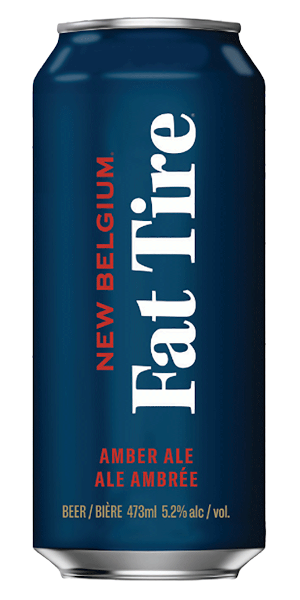 You may also like...