Nine Locks Harvest Pumpkin Ale (473ml)
Nine Locks Brewing Company is located in Dartmouth, Nova Scotia, close to the historic Shubenacadie canal. To create the best beer possible, they brew all of their beer in small batches using all natural ingredients with no filtration, no pasteurization, and never any preservatives.
Tasting Notes
A dark amber ale with a full body and subtle residual sweetness, the pumpkin and spices combine to give a unique flavour to this seasonal offering. A malty backbone provides mouth fullness balancing the crisp spicing.
5.2% abv
Method
Pumpkin beers are always a popular style when the cool days of Fall roll in. Inspired from old styles of farmhouse beer that utilize various in-season herbs and spices for different times of the year, today, most craft brewers make the style with a variety of spices to mimic the flavours of pumpkin pie. Some breweries choose to brew a more subtle take on the style, while others go all in with big aromas and intense flavours. This Nine Locks Pumpkin beer sits right in the middle of those ends.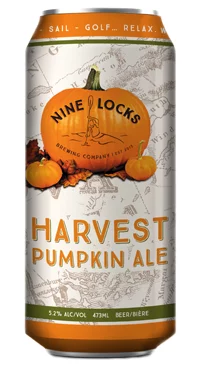 You may also like...