North Brewing Headline Milk Stout (473ml)
North Brewing, located in the North-End of Halifax, Nova Scotia, is one of the province's newest breweries. With a strong commitment to envrionmental responsibility, North Brewing strives to be a zero emissions craft brewery while producing exceptional, hand-crafted beers.
Tasting Notes
A cold weather seasonal Belgian Milk Stout. Warm roasted malt character is complimented with a smooth body and subtle belgian yeast character.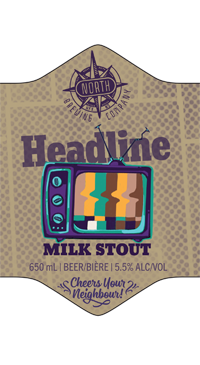 Our Thoughts
I'm a wine lover through and through. That said, I love a good brews, too. As a lover of all things summer, this time of year I want something deep, dark and delicious to get me through the winter months. Coffee and chocolate on the nose, with a creamy, light palate. Perfect for hanging with my dog in front of the stove.