North x Benjamin Bridge – Saison du Chardonnay (750ml)
Beer Category

Farmhouse Ale

Beer Style

Grape AleSaison

Tasting Notes

ComplexFruityVinous
North Brewing started in the North-End of Halifax, Nova Scotia under the name Bridge Brewing, but have since changed names to North Brewing. In the spring of 2019 they moved to much larger new brewery on Portland St. in Dartmouth. With a strong commitment to environmental responsibility, North Brewing strives to be a zero emissions craft brewery while producing exceptional, hand-crafted beers.
Tasting Notes
Saison du Chardonnay is presenting beautifully with notes of lime zest, tangerine and apricot. It's the perfect beverage for any celebration or special dinner you have coming up
We recommend chilling upright to allow the sediment to settle and pouring slowly into a glass to preserve the lovely natural carbonation and to leave the sediment in the bottle. North and Benjamin Birdge have been making variations on this collaboration since 2016 and this is the most favourite to date!
Method
This beautiful Saison was made with the addition of Chardonnay grape juice from Benjamin Bridge's 2021 crop. It was brewed last fall and conditioned it in a tank for 7 months. In May 2022 the beer/wine was primed and bottled and conditioned in the bottle for another 5 months.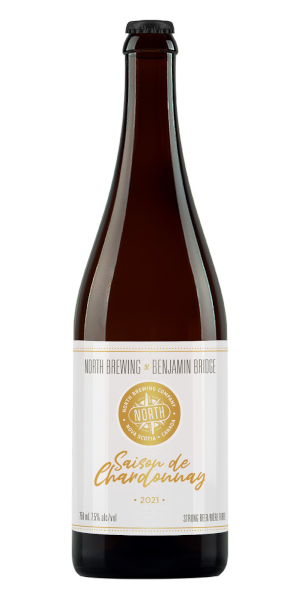 You may also like...