North x Bishops – Cellarbration Saison (473ml)
Beer Category

Farmhouse Ale

Beer Style

Belgian SaisonBeers in this category are gold to light-amber in colour and are often bottle-conditioned, with some yeast character, and high carbonation. Learn More

Tasting Notes

BitterDryrefreshing
North Brewing started in the North-End of Halifax, Nova Scotia under the name Bridge Brewing, but have since changed names to North Brewing. In the spring of 2019 they moved to much larger new brewery on Portland St. in Dartmouth. With a strong commitment to environmental responsibility, North Brewing strives to be a zero emissions craft brewery while producing exceptional, hand-crafted beers.
Our third and final collaboration for 20th anniversary!

For this beer we teamed up with our good friends at North Brewing Company. We have sold North since they first opened, and even did a collaboration with them before (Bloom – Modern Saison).
Tasting Notes
Pouring a hazy light yellow with a creamy off-white head and filed with herbal aromas of lemongrass, white pepper, alpine herbs, and white peach. The palate mimics the aromas and also features effervescent carbonation, a refreshing light mouthfeel, and a clean bitter finish.
Method
This time we went a little more traditional in our approach to saison. We used a classic French yeast strain that produces fruity and spicy notes and paired it with new(er) generation German hops in the dry hop.
In our collab with Tatamagouche (the Cellar Slammer) we use Hallertau Blanc in the dry hop, known for its flavors of white-wine and fruit, aromas of cassis, elderflower, grapes, grapefruit and lemongrass.
And in our collab with Propeller (the Cellarbier Pilsner) we used the Saphir hop, known for its flavours of bergamot, black tea, juniper, lemongrass, and strawberry.

Cellarbration uses an almost 50/50 split of these two hops at multiple stages in the dry hop process to give a unique, but familiar aroma profile to that of Saison. With a twist!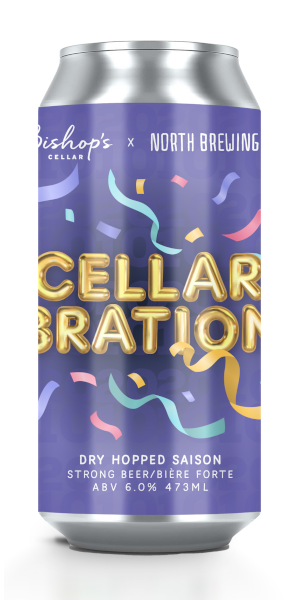 You may also like...