NS Spirit Co. – Blue Lobster Cranberry Lime 6pk (2130ml)
Tasting Notes

CrispFruityrefreshing
Based out of Stellarton, NS – Nova Scotia Spirit Co. hit the market in 2015 with a focus on producing quality, small batch spirits at an everyday price. They've since expanded their offerings to Ready to Drink cocktails with the Blue Lobster Vodka Soda line, as well as beer with the Painted Boat brewery.

Small Town, Small Batches, Tall Tales.
Tasting Notes
Blue Lobster Vodka Soda Cranberry Lime has been years in the making. This cocktail is a classic for a reason. Tart cranberry on the nose is perfectly balanced with award-winning Blue Lobster Vodka and a hint of lime.
6.0% abv
Method
Proudly made with 100% Nova Scotia cranberries this is destined to become a Nova Scotian classic. Other ingredient include carbonated water, Blue Lobster Vodka, Sugars (cranberry juice, sugar), Natural flavours, and Citric acid.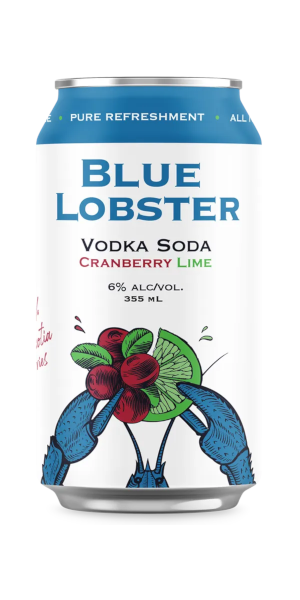 You may also like...