NS Spirit Co Blue Lobster SODA MIX PACK 12x355ml (4260ml)
Based out of Stellarton, NS – Nova Scotia Spirit Co. hit the market in 2015 with a focus on producing quality, small batch spirits at an everyday price. They've since expanded their offerings to Ready to Drink cocktails with the Blue Lobster Vodka Soda line, as well as beer with the Painted Boat brewery.

Small Town, Small Batches, Tall Tales.
Tasting Notes
Cherry – The sweetness detected comes from 100% Wild Canadian Cherries, which also gives it the vibrant red colour. The Wild Cherries deliver a pleasant presence of a sour tart pucker and juicy refreshment while this flavour finishes with a bright hint of natural lime.
Lemon/Lime – An incredibly crisp, clean and refreshing alternative to your typical ready to drink cocktail. Made with the cleanest vodka, the clearest water and 100% natural flavours, it is pure refreshment in a can. Leave your vodka, mixers, glasses, lemons, limes and ice at home – reach for a Blue Lobster Vodka Soda.
Blueberry – Blueberry Lemon is made with 100% Nova Scotia Blueberries giving this beverage a burst of blueberry flavour paired with a punch of lemon on the finish. The natural blueberry juice offers a slightly sweetened flavour profile from the natural sugars in the berries, but maintains a light, crisp flavour profile perfect for any time of year.
Method
Cherry – Lemon/Lime – Blueberry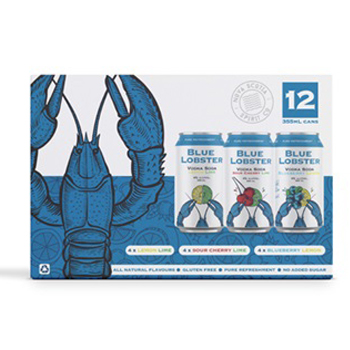 You may also like...