Ochota Barrels Texture Like Sun Red (750ml)
Food Pairing

RibsShepherd PieBurgers

Grape

FragolaChardonnayGamayGewürztraminerGrenacheMourvedrePinot MeunierPinot NoirRiesling
The Ochota Barrels tale began on a surf trip, late 2000 along the Mexican west coast in a Volkswagen campervan. A final destination after traveling some of the world's most amazing wine and surf regions, Taras and Amber Ochota conceived the idea to make beautiful holistic wines back home in South Australia.
After a mis-spent youth playing a rickenbakker bass in various punk bands, Taras became an Oenology graduate from Adelaide University, developing his craft in numerous vineyards and cellars around the world to then settle with Amber on 9.6 steep gorgeous acres tucked away, deep in the Basket Range of the beautiful Adelaide Hills. Before this Taras worked as the European Flying Winemaker Consultant, concentrating on the Italian regions, Puglia, Abruzzo Sicily and further, for a Swedish wine importing company. The initial plan was to concentrate on Grenache in Mclaren Vale and Syrah in the Barossa Valley, find exceptional old vineyard sites in each region and create juicy, small batch, single vineyard wines. They now also farm some interesting older plots in the Adelaide Hills, with old bush vines producing small berries and low yields. They take a holistic approach in the vineyard, the small biodynamic producers they met in the south of France have been a huge influence.
They take a holistic approach in the vineyard, the small biodynamic producers they met in the south of France have been a huge influence. A hands-off, minimum-intervention approach to winemaking: picking early to maintain natural acidity, ferments using indigenous yeasts, whole-bunch pressing the whites, whole-bunch fermentation and longer maceration for the reds. Texture is an important focus, mouth-feel is created via time on skins and batonnage. Aging is in old French oak, just a touch of sulphur is used at bottling. The wines are mouthwatering, they have a compelling energy and nervous tension. In Taras' own words "We just want to produce something delicious and gorgeous for all of us to enjoy with none of the nasties and more of the love". Taras Ochota died suddenly in 2020 from an autoimmune disease. His wife Amber and the Ochota team are continuing the project.
Tasting Notes
Red berries, spice, white pepper and peat with underlying smoked meat notes. The palate is luscious and smooth with fine ripe tannins flavours of plum, cassis and cigar box. Fleshy with a long finish.
Method
This is truly an eclectic blend for a red wine.  The grapes are sourced from the Adelaide Hills region of South Australia grown on clay limestone soil.   After harvest the grapes are de-stemmed and the berries are cold soaked for 5 days. The varieties are
partially co-fermented with some lots kept separate. Wines are then basket pressed to stainless steel where it rests for a few months before blending and bottling.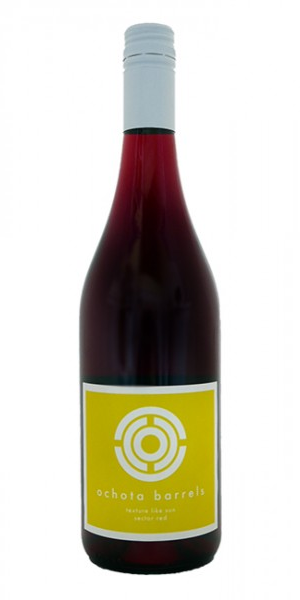 You may also like...