Olands – Schooner Lager 24x355ml Cans (8520)
Beer Category

Commercial Lager

Beer Style

Pale LagerBrewed with only pale malt for delicate malt flavours, and subtly balanced with European hop varieties that offer herbal, floral, and some spice character. Learn More

Tasting Notes

CrispLightsink a ship
First brewed by sailing enthusiast and brewer Sidney Oland in the 1950s, Schooner beer was named after the famous racing and fishing vessel the schooner Bluenose. A replica schooner, Bluenose II, was built by the Oland family in 1963. The Oland family (not to be confused with the Saint John, New Brunswick relatives who still own and operate Moosehead Brewery) used Bluenose II as both a private yacht and as a promotion for the beer brand. An illustration of the ship is found on the label as well as the cap. Sidney Oland donated the schooner to the Province of Nova Scotia in 1971. The Oland family sold their breweries to Labatt in 1971, and Schooner has since been produced under the InBev umbrella.
Tasting Notes
I'd sooner have a Schooner. This iconic maritime lager features the classic aromas and flavours of other Pale Lagers from around the world – clean, crisp texture with mild golden malt character. Come see what all the fuss is about. The Schooner, the better.
Method
This is a sub-style of lager that has changed over the years from its humble German roots to become the most popular style of beer in the world. Brewed with only pale malt for delicate malt flavours, and subtly balanced with European hop varieties that offer herbal, floral, and some spice character.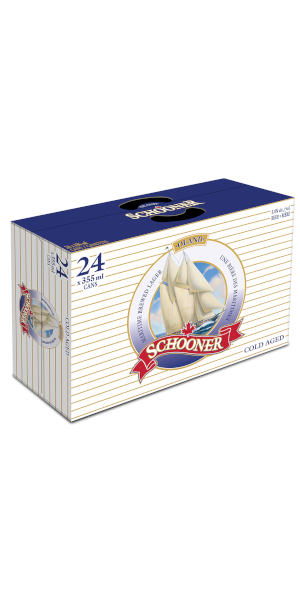 You may also like...
Express Shipping!
For select shipping postal codes, this product may be eligible for Express Delivery! Click here to learn more.