Old Milwaukee Ice (473ml)
Beer Style

American Lager
Old Milwaukee is owned by the Pabst Brewing Co. Established in Milwaukee in 1844, and changing the name from Best Brewery to Pabst brewery in 1889. Pabst was once America's second largest brewery. One of the early adopters of canned beer in the early 1920's, Pabst brewery saw sales surge exceptionally after WWII, further cementing their status as one of America's most widely known beer brands.
Old Milwaukee is brewed and distributed by Sleeman breweries for the Canadian market. The Sleeman brewery is located in Guelph Ontario.
Tasting Notes
Pouring a clear straw colour with light aromas of bread dough, water cracker, and subtle floral hop character. Palate drinks with light lager flavours, a very approachable mouthfeel with lively carbonation and a smooth finish.
Method
Old Milwaukee Ice is brewed much like the regular Old Milwaukee, only with an elevated alcohol content. This style of beer is the one of the worlds most consumed sub-styles of beer in the world, the American Lager. Usually made with heavy additions of adjuncts (corn and/or rice) and brewed with the intention of being light on flavour, but big on drinkability. This one goes down smooth.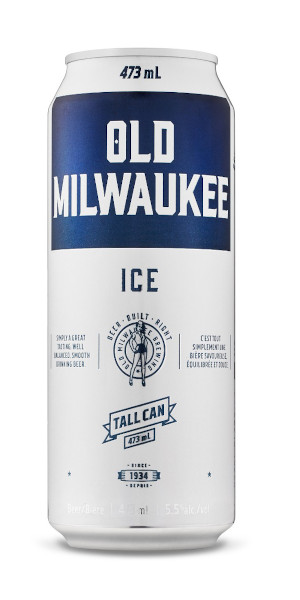 You may also like...