Petite Riviere Vineyards Petite L'Orange (750ml)
Grape

CayugaFrontenac GrisL'Acadie Blanc

Food Pairing

CharcuterieCheeseCurry
Petite Rivière Vineyards grows elegant, complex wines in a sunny microclimate on the slops of Drumlin Hills on Nova Scotia's South Shore. The LaHave River Valley Wine Region is recognized as one of the earliest growing wine regions in North America.
Tasting Notes
Beautiful amber hue, aromas of dried fruit, honey, linseed oil and sourdough. The palate is lively with honeyed pear, baked apple and hazelnuts with a bright acidity and notable tannins. Pairs well with charcuterie, bold cheeses, nuts and curries. Serve chilled.
Method
This skin-contact white wine is a style of wine made from white grapes, fermented with the grape skins, giving the wine an orange colour. This wine is a blend of L'Acadie Blanc, Cayuga & Frontenac Gris grapes; spontaneously fermented with wild yeast and 5 weeks skin contact under the watchful eye of winemaker Christian Perlat.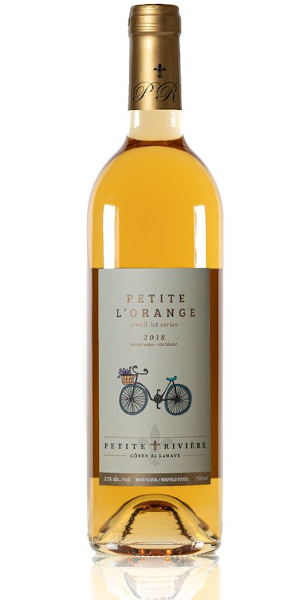 You may also like...