Pinkus Müller – Münster Altbier (500ml)
Beer Style

AltbierStriking a balance between hop and malt flavours, these beers can have low fruity esters and some peppery yeast notes, too. Learn More

Region

North Rhine-Westphalia

Tasting Notes

CrispFloralMalty
The Pinkus-Muller brewery traces its origins to the family's arrival in the Northern German town of Munster in 1816. At that time, Johannes Müller and his wife Friederika Cramer started an altbier brewery and a bakery. Since their arrival, 150 breweries have come and gone from Munster. Only Pinkus remains.
Today, the fifth and sixth generations of the family operate the famous Pinkus-Muller Pub/Brewery. So dedicated to quality is Pinkus, that they are the first all organic brewery of the modern era to brew with only organically-grown barley malt and whole hop blossoms. They produce 20,000 hectoliters per year.
Tasting Notes
Pouring a pale gold color with floral aromas of noble hops, sourdough bread crusts, lemon rind, and subtle honey that leads into a dry, medium body and an incredibly smooth finish with lingering notes of bread crust, mineral/stone, and lemon glaze finish. A smooth, dry, easy-drinker.
Method
"Alt" is the German word for "old" or "original" and the alt style is certainly older than German lager styles. Pinkus Muller's Altbier is unique in that their Alt is golden in colour, where this style is almost always an amber coloured beer. Altbier and Kolsch are two "hybrid styles" where the beer is fermented first as an ale, but then lagered for 4-6 weeks at near freezing temperature to create a much more crisp, light, and refreshing product.
Our Thoughts
A classic example of the Münster-style Altbier; a lacto-soured, top-fermented style, kind of like a Kölsch-Berliner Weisse Hybrid. It pours more golden than amber but has abundant herbal, pear, and apple notes with a small amount of that classic lactobacillus funkiness; the palate is crisp, medium-bodied, and slightly mineral. If there were a time for breakfast beer, this is the one!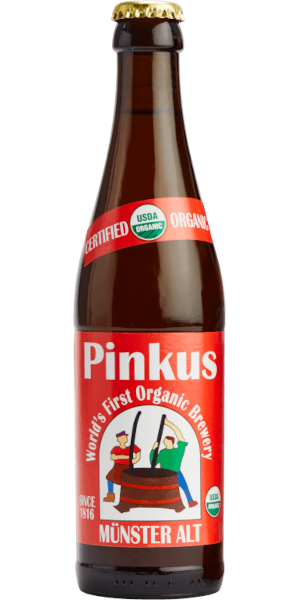 You may also like...