Pinkus Müller – "Ur" Pilsner (500ml)
Beer Style

German PilsnerA lighter, more "snappy" texture; drier on the finish, often displaying more hop bitterness and aroma. Learn More

Region

North Rhine-Westphalia

Tasting Notes

CrisprefreshingSpicy
The Pinkus-Muller brewery traces its origins to the family's arrival in the Northern German town of Munster in 1816. At that time, Johannes Müller and his wife Friederika Cramer started an altbier brewery and a bakery. Since their arrival, 150 breweries have come and gone from Munster. Only Pinkus remains.
Today, the fifth and sixth generations of the family operate the famous Pinkus-Muller Pub/Brewery. So dedicated to quality is Pinkus, that they are the first all organic brewery of the modern era to brew with only organically-grown barley malt and whole hop blossoms. They produce 20,000 hectoliters per year.
Tasting Notes
Pouring pale, clear gold with long lasting white head. This Pilsner has beautiful aromas of freshly baked bread, spicy and floral hops. The palate is very refreshing and crisp as the beer is stored in lagering tanks at around zero degrees celsius. The beer is stored for 4 – 6 weeks and thus experiences its maturity and special character.
Method
Golden pilsner with bright, elegant bitterness was developed in Pilsen, Czechoslovakia, in the mid-19th century and German brewers began to brew "pils" very soon after. Pinkus Ur Pils, brewed with organic malt and hops, has another connection to the beers of 150 years ago: no chemical fertilizers or pesticides are used to produce the malt and hops. "Ur" translates roughly from German to "original."
Our Thoughts
Floral and snappy with a nice clean, cracker finish. Not overly bitter with high carbonation; German Pils at its finest!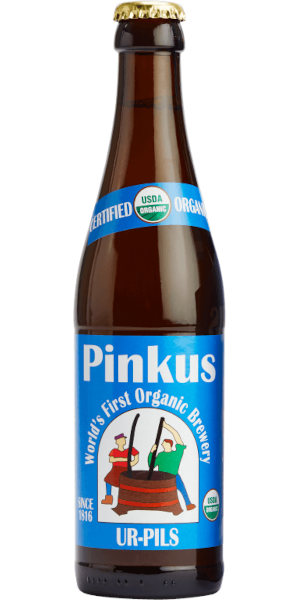 You may also like...
Express Shipping!
For select shipping postal codes, this product may be eligible for Express Delivery! Click here to learn more.