Ployez Jacquemart Zero Dosage (750ml)
Food Pairing

AperitifCold Saladsoysters

Grape

ChardonnayPinot MeunierPinot Noir
Laurence Ployez is a third-generation winemaker at her family's estate, which was established in 1930. Ployez-Jacquemart owns 2.15 hectares of Premier Cru and Grand Cru vineyards in Ludes and Mailly-Champagne in the Montagne de Reims, known for its classic chalk slopes; in addition, Laurence purchases Premier Cru and Grand Cru grapes from 12 hectares of vineyards from growers that the family has worked with for over 20 years. All of the work in the vineyards is done by hand, from the beginning of the growing season until the grapes are harvested.
Unlike most producers in Champagne, she strives to keep the characteristic of each vintage even in her NV blends and only uses a very small amount of reserve wine, if any at all. Only first press juice goes into the Ployez-Jacquemart wines. A light filtration is used for wines produced in vats, but no filtration is used on wines aged in wooden barrels. The wines undergo a very slow bottle fermentation in a 25-meter-deep cellar, giving them extremely fine bubbles. Wines are aged nose-to-punt, or sur pointe, in lieu of being aged on their side; aging sur pointe provides the antioxidative and aging benefits of the lees while not allowing the wines to become too rich from the lees contact.
52% Chardonnay, 24% Pinot Noir, 24% Pinot Meunier
Tasting Notes
5 years on lees gives the wine the requisite richness to match its bone dry character, the palate full of citrus, bread crust, grapefruit and sea breeze, with a gently creamy, biscuit finish.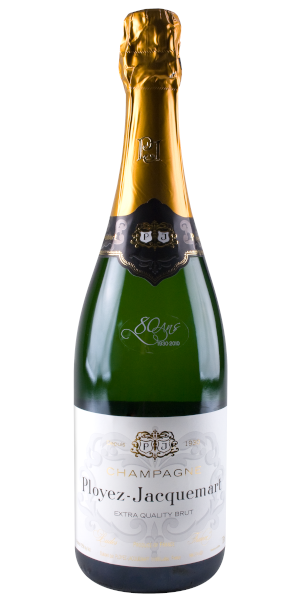 You may also like...