Propeller – 25K Double Dry Hopped IPA (473ml)
Beer Style

New England IPA

Tasting Notes

BitterJuicyTropical
First opening their doors in 1997, Propeller Brewing Company has gone from a small brewery on Gottingen St. brewing a Pale Ale and an Extra Special Bitter to become one of the largest brewery's in Nova Scotia and a driving force in this industry. Owner John Allen has allowed the business to grow and branch into multiple locations and a comprehensive product line that includes beer, ready to drink cocktails, and craft sodas. They have won awards both locally and nationally for a wide array of products and continue to experiment with new styles and old favourites.
Tasting Notes
Brewed to celebrate 25 years in craft beer and to support our community! The 25K IPA is a limited release, double-dry hopped IPA, with intense aromas of juicy melon, bright orange, and hints of pine. Perfectly balanced with a rounded bitterness. 100% of all proceeds of this beer will be donated to Feed Nova Scotia.
6.1% abv
Method
Double dry hopping is a process where hop pellets are added in abundant quantities at the end of the boiling process, and sometimes in the fermenting tank directly. This process is what contributes to the intense aromatic qualities that New England IPA's have become known for. The hops varieties used are usually from North America or Australia/New Zealand and are known for flavours of tropical fruit, citrus and stone fruits, along with herbal notes.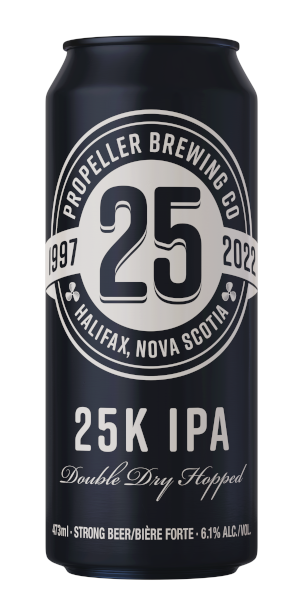 You may also like...