Propeller Cascade Pale Ale (2046ml)
Beer Style

American Pale Ale
One of Nova Scotia's original microbreweries, Propeller Brewing Company, located in Halifax, produces a wide-range of International award winning, all-natural, British-style ales and lagers.
Tasting Notes
Advances in malting techniques made possible paler coloured malts and heralded the arrival of Pale Ales onto the brewing scene in the 1800s in Britain. The most famous Pale Ale brewers came from Burton, where the hard water perfectly suited this new style of beer. Propeller "Burtonizes" its water to emulate this famous style. Crisp, hoppy and dry, Propeller Pale Ale is a delightful interpretation of a classic British brew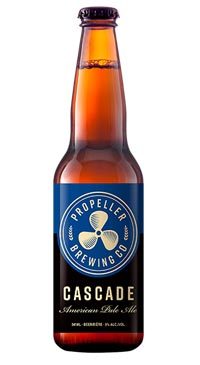 You may also like...