Propeller X Clever Barkeep – Cucumber Gin Rickey (355ml)
Tasting Notes

citrussyherbalrefreshing
Propeller Craft Cocktails – from the fine folks at Propeller Brewing Co. created to expand and explore ready-to-drink cocktails. Based out of the main production brewery on Windmill Rd in Burnside, Propeller CC is putting out some seriously fine ready to drink offerings.
Tasting Notes
Cheers to this fun and fresh infusion of gin, cucumber, lemon and lime. Crafted to be lightly sweet, with real and all natural ingredients. Bright and refreshing aromatics of lime zest, cucumber and a subtle note of gin. Ready to enjoy from the can or pour into a tall collins glass over ice.
5.0% abv
Method
Cucumber Rickey is a collaboration between Windmill Craft Cocktails and The Clever Barkeep. The Clever Barkeep is an innovative bar consultation and cocktail catering company led by award-winning mixologists Matt Boyle & Jeff Van Horne. Check our their cocktail bar, Dear Friend, in downtown Dartmouth on Portland St.!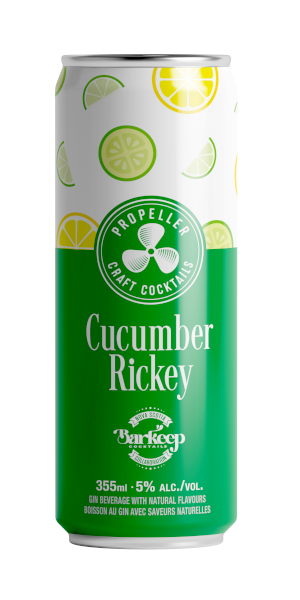 You may also like...