Propeller – English Porter (473ml)
Beer Style

English PorterSofter, sweeter and more caramel-like than a robust porter, with less alcohol and body. Learn More

Tasting Notes

MaltyRoastySmooth
First opening their doors in 1997, Propeller Brewing Company has gone from a small brewery on Gottingen St. brewing a Pale Ale and an Extra Special Bitter to become one of the largest brewery's in Nova Scotia and a driving force in this industry. Owner John Allen has allowed the business to grow and branch into multiple locations and a comprehensive product line that includes beer, ready to drink cocktails, and craft sodas. They have won awards both locally and nationally for a wide array of products and continue to experiment with new styles and old favourites.
Tasting Notes
Roasty and Toasty with aromatics of chocolate, coffee, and toasted brown bread. Propeller Porter is robust in flavour but finishes smooth with great complexity. An awesome beer to pair with an array of rich pub fare.
Method
This beer style was created in the mid-1750's. A dark full-flavoured beer but smoother and less bitter than stout. Made with softened water, Propeller London Porter is a blend of pale, roasted and chocolate malts, hopped with English and North American varieties.
Porter was the drink of the masses long before lagers or modern ales were fashionable. The name Porter originated because this strong, nourishing drink was reputed to be the favourite beverage of the hard working porters of London's Covent Gardens.
Our Thoughts
When you're looking to have your cake and eat it too, reach for this beer. Why? Well, do you want a delicious local craft beer? How about a traditional English Porter? This right here IS that beer; robust, balanced, and smooth. What more could you ask for?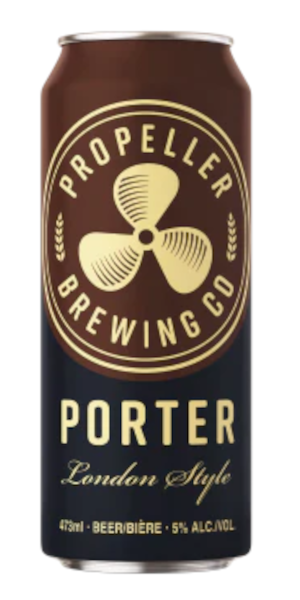 You may also like...