Propeller – Extra Special Bitter (473ml x 4pk) (1892ml)
Beer Style

English Pale Ale/ESBSometimes referred to as Extra Special Bitter (ESB), these beers are known for balance between malt and hop bitterness. Expect earthy-herbal English-variety hop character. Learn More

Tasting Notes

ComplexMaltySmooth
First opening their doors in 1997, Propeller Brewing Company has gone from a small brewery on Gottingen St. brewing a Pale Ale and an Extra Special Bitter to become one of the largest brewery's in Nova Scotia and a driving force in this industry. Owner John Allen has allowed the business to grow and branch into multiple locations and a comprehensive product line that includes beer, ready to drink cocktails, and craft sodas. They have won awards both locally and nationally for a wide array of products and continue to experiment with new styles and old favourites.
Tasting Notes
The Extra-Special Bitter is a rich, full-bodied English-style bitter, brewed with carefully selected malts and hops. This burnt copper ale pours with complex malt driven aromas of toasted bread, toffee, golden raisins, apricots, herbal and floral notes, and subtle earthiness. The palate is light and easy going, with a dry finish and balanced bitterness.
Method
Bitter was originally a draught ale served very fresh under no pressure (gravity or hand pump dispensing only) at cellar temperatures. And one of the first 2 beers that Propeller ever made, and continues to this day. A fixture style in the English beer world, ESB spawned the creation of many beer styles, and can be some of the most enjoyable session beers to have with food or enjoy throughout the night.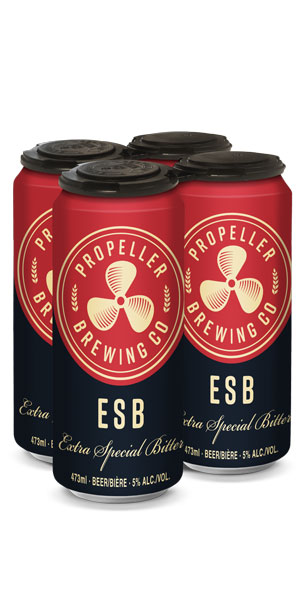 You may also like...