Propeller Flat White Stout (473ml)
One of Nova Scotia's original microbreweries – Propeller Brewing Company, located in Halifax, and now Dartmouth. They produce a wide-range of international award winning all-natural, British and American-style ales and lagers.
Tasting Notes
A golden ale with unexpected flavours of coffee and cocoa. With fresh, cold-brewed Java Blend coffee and decadent cocoa nibs, it's rich yet balanced. Loaded with flaked oats for a medium body and lingering white head.
5.0% abv
Method
White Stout is a newer style in the craft world, that seeks to trick the drinker. If poured into an opaque glass, you'd think you're drinking a dark stout, but to look at the beer you'd see a golden colour. This is achieved by brewing a light ale with no dark malts but using coffee and chocolate additives to produce the rich, chocolatey flavours found in your favourite stout.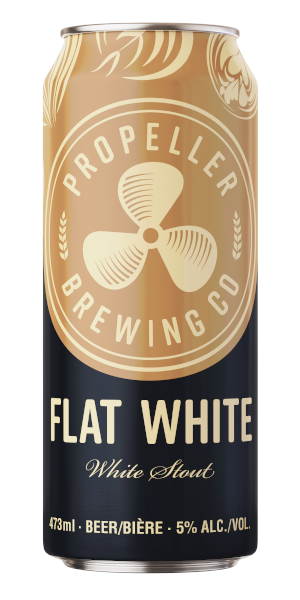 You may also like...