Propeller – Leviathan Triple IPA (473ml)
Beer Style

Triple IPAA stronger Double IPA? A new, emerging beer style? In any case, you can be sure that this beer style will contain the most hops, alcohol, and intensity in it's hoppy category. Learn More

Tasting Notes

BitterSmoothTropical
First opening their doors in 1997, Propeller Brewing Company has gone from a small brewery on Gottingen St. brewing a Pale Ale and an Extra Special Bitter to become one of the largest brewery's in Nova Scotia and a driving force in this industry. Owner John Allen has allowed the business to grow and branch into multiple locations and a comprehensive product line that includes beer, ready to drink cocktails, and craft sodas. They have won awards both locally and nationally for a wide array of products and continue to experiment with new styles and old favourites.
Tasting Notes
This triple IPA explodes with monstrous flavours of tropical fruit. Hazy, dank, and velvety, Leviathan is aggressively bitter and mellowed by a smooth lactose finish.
Method
Triple IPA  – is it just a really strong Double IPA, or a new emerging style? However you classify it you can be sure that this beer style will contain the most hops, alcohol, and intensity to be found in any sort of hoppy beer. Propeller's Leviathan is also brewed with a small addition of lactose sugar, which in the finished beer leaves behind a slightly creamy and smooth texture that perfectly balances the robust hop additions.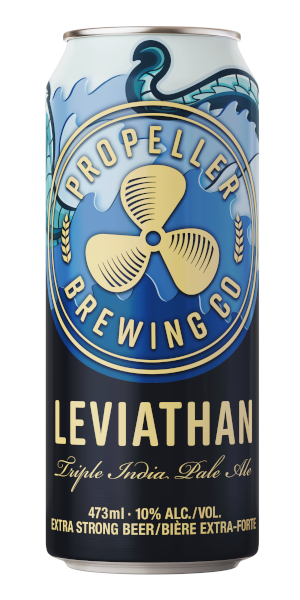 You may also like...