Propeller Russian Imperial Stout 650ml (650ml)
Beer Style

Imperial Stout
One of Nova Scotia's original microbreweries – Propeller Brewing Company, located in Halifax, and now Dartmouth. They produce a wide-range of international award winning all-natural, British and American-style ales and lagers.
Tasting Notes
A dark, strong and bracing brew, with a deep, rich, black colour, the brew improves with age. The alcohol is well masked by intense hop bitterness, extreme roasted malt and dark fruit notes.
Method
A true OG from the Propeller Brewing Company – the Russian Imperial stout is released every Fall in preparation for a long, cold Winter. Utilizing various dark malts to create a complex, and rich profile, this RIS is sure to warm you up on those cold days, just like it would have over 100 years ago as this style was sent to the Czars of Russia. At 8% abv, this is a beer to keep for cellaring, or to slowly sip by a fire.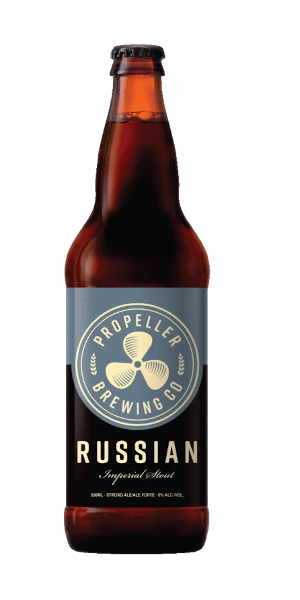 You may also like...