Propeller X Clever Barkeep – Paloma Cocktail (355ml)
Tasting Notes

citrussyherbalrefreshing
Propeller Craft Cocktails – from the fine folks at Propeller Brewing Co. created to expand and explore ready-to-drink cocktails. Based out of the main production brewery on Windmill Rd in Burnside, Propeller CC is putting out some seriously fine ready to drink offerings.
Tasting Notes
A deliciously refreshing ready-to-drink cocktail made with citrusy grapefruit, tangy lime, and agave spirit. Serve chilled or over ice.
5.0% abv
Method
Paloma is a collaboration between Windmill Craft Cocktails and The Clever Barkeep. The Clever Barkeep is an innovative bar consultation and cocktail catering company led by award-winning mixologists Matt Boyle & Jeff Van Horne. Check our their cocktail bar, Dear Friend, in downtown Dartmouth on Portland St.!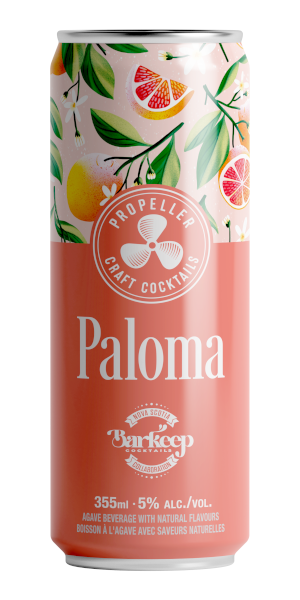 You may also like...