Railsback Freres Le Carignan (750ml)
Food Pairing

Pulled porkBurgersDuck
The story of two brothers: even while still in high school, Eric was already collecting bottles of prized top dollar Burgundy and Chablis, hiding them under his bed when he started college. Lyle's quest for knowledge landed him in Austria where he met one of his most important friends in the industry, sommelier Rajat Parr. After a decade of restaurant work, Eric returned to Santa Barbara to start his own project, Lieu Dit, inspired by the Loire. Older brother Lyle had also worn many hats in the industry, ultimately landing a job for one of the most esteemed importers Kermit Lynch, leading regional sales. After leading separate lives for some time, the brothers both felt a calling to merge their two paths, which is how Railsback Frères came to be born. The brothers partnered with Presqu'ile Winery in Santa Maria, where they now make the wines using only wild, native yeast fermentation.
Tasting Notes
Strawberries, cranberries, and baking spices, with herbaceous flavors of umami and sandalwood. A perfect match for cured meats, dark leafy greens, and of course the ubiquitous burger or pizza night!
Method
Inspired by the wines of Maxime Magnon, in Corbieres, France.  This wine is made using whole-cluster Carignan made with partial carbonic maceration, delivering a juicy-fruited, crushable red that is best served chilled or at cellar temperature.   The 2019 Carignan is sourced from the Camp Four vineyard in the heart of Santa Ynez Valley.  The grapes were picked between 20.7 and 22.2 brix for a light-bodied and low alcohol, easy-drinking fresh red.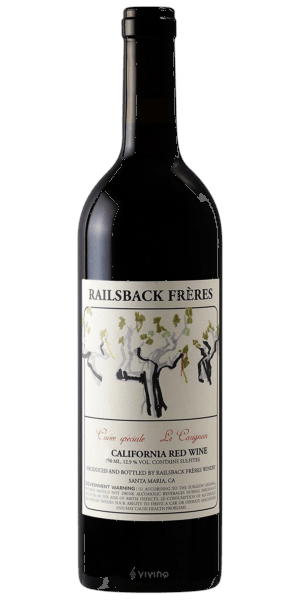 You may also like...