Railsback Freres Vermentinu  (750ml)
Railsback is the story of two brothers: even while still in high school, Eric was already collecting bottles of prized top dollar Burgundy and Chablis, hiding them under his bed when he started college. Lyle's quest for knowledge landed him in Austria where he met one of his most important friends in the industry, sommelier Rajat Parr. After a decade of restaurant work, Eric returned to Santa Barbara to start his own project, Lieu Dit, inspired by the Loire. Older brother Lyle had also worn many hats in the industry, ultimately landing a job for one of the most esteemed importers Kermit Lynch, leading regional sales. After leading separate lives for some time, the brothers both felt a calling to merge their two paths, which is how Railsback Frères came to be born.
Tasting Notes
Aromas of white flowers, pink grapefruit, and a distinctive bitter almond finish, this dry white is as versatile at the table as a Corsican Vermentinu. Perfect for seafood and white fish dishes, it also goes down easily on its own.
Method
After Eric and Lyle traveled to the Mediterranean island of Corsica and tasted wines made from the native Vermentino grape (or Vermentinu in local dialect), they were inspired to make their own expression of Vermentino in California. Vermentinu, sourced from three unique sites in the Santa Ynez Valley: from the marine sedimentary loam of Camp Four, the pure sand of Brick Barn, and the clay/loam of the cooler NE-facing Santa Ynez Vineyard, all harvested by hand. Fermentation was in a mix of cement eggs and neutral wood, followed by additional aging was in neutral French oak for six months, then only a rough filtration before bottling.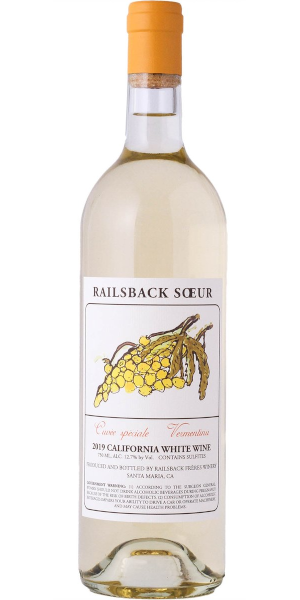 You may also like...