Raymond Usseglio Châteauneuf-du-Pape White (750ml)
Food Pairing

ChickenShellfishSushi

Grape

BourboulencClairetteGrenache BlancRoussanne

Sub-Region

Chateauneuf-du-Pape
Domaine Usseglio is, first and foremost, the story of a family. In 1948 Francis Usseglio, an Italian labourer, came to Châteauneuf-du-Pape to work in the vineyards. His passion for wine and motivation led him to take on a few hectares of vines on a sharecropping basis known as métayage. His son Raymond took over from him, continuing the tradition but adding a modern touch by converting the vineyards to biodynamic. Today, the 24-hectare Domaine Usseglio is run by Francis' grandchildren, Jean-Pierre, Thierry and Stéphane and is one of the appellation's leading lights. Its grape varieties are typical for Châteauneuf du Pape. The vines are between 30 and 60 years old and harvesting is carried out manually. The resulting wines have plenty of character, combining power with a hint of rustic simplicity. Usseglio is considered one of the top producers in the appellation.
Tasting Notes
Notes of baked apple, ripe pineapple and aniseed. Flavours of white fruit, peach, nuts, dried fruit and a slight saline presence.
Method
 The Chateauneuf-du-Pape white is a blend of 40% Grenache Blanc, 30% Roussane, 20% Clairette and 10% Bourboulenc.   The grapes were biodynamic farmed, hand harvested, de-stemmed, and fermented in concrete tanks.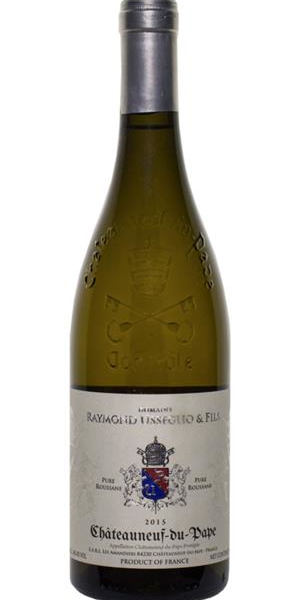 You may also like...