Revel Foraged Vermouth Soda (355ml)
Just outside of Guelph, Ontario, Revel Cider has been slowly building up their repertoire, making a wide range of apple ciders, perrys, fruit wines, and even vermouth! Revel only ferments using spontaneous methods and natural yeasts. They are all fermented to zero grams of sugar, and usually barrel aged and/or blended with fruit, or wine must. They're delicate and wonderfully complex products that taste as good as the labels look!
Tasting Notes
Coming in at 4.4%. It's beautifully floral, with complex herbaceous and citrus notes, has lively acidity, but not in a sour or harsh way, and finishes dry as a bone. This is begging to be mixed into a cocktail with maybe some gin, simple syrup, and a citrus component.
Method
The base for these cans was a sweet vermouth Revel made with pears, apples and blue plums. They worked closely with their forager this spring to find a few exciting, seasonal botanicals to add to it. After making the sweet vermouth they blended it with some house made soda water and let it ferment again before putting into these beautiful cans.
The Spot You Told Me About is made with foraged apple blossoms, wild lemon ginger, blue, red and Norway spruce tips, and white pine shoots. Organic lemon thyme was also added as a garnish just before putting it into cans to bump up the acidity. These cans have zero residual sugar.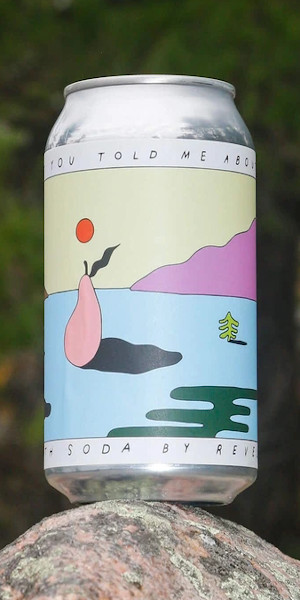 You may also like...