Revel – Mithras Nectarine Cider (355ml)
Tasting Notes

CitrusDryrefreshing
Just outside of Guelph, Ontario, Revel Cider has been slowly building up their repertoire, making a wide range of apple ciders, perrys, fruit wines, and even vermouth! Revel only ferments using spontaneous methods and natural yeasts. They are all fermented to zero grams of sugar, and usually barrel aged and/or blended with fruit, or wine must. They're delicate and wonderfully complex products that taste as good as the labels look!
Tasting Notes
Mithras has loads of nectarine aroma up front, with bright and lively stone fruit acidity. It's dry and tart, with the Sassafras sweetness lifting the nectarines just enough. It's also probably the closest thing to liquefied fuzzy peaches ever!
6.7% abv
Method
Mithras is a cider made with an extravagant amount of Niagara grown nectarines. Revel added foraged sassafras branches for a soft sweetness, it's a background character which lifts the fruit. And like all Revel ciders, it is spontaneously fermented.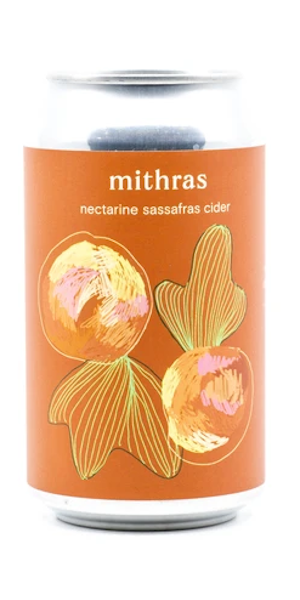 You may also like...