Ridge Estate Geyserville Zinfandel (750ml)
The history of Ridge Vineyards begins in 1885, when Osea Perrone, a doctor who became a prominent member of San Francisco's Italian community, bought 180 acres near the top of Monte Bello Ridge. He terraced the slopes and planted vineyards; using native limestone, he constructed the Monte Bello Winery, producing the first vintage under that name in 1892. This unique cellar, built into the mountain side on three levels, is Ridge's production facility. At 2600′, it is surrounded by the "upper vineyard."
Though born in the early sixties to the post-Prohibition world of modern California winemaking, Ridge relies on nature and tradition rather than technology. Ridge takes a pre-industrial approach to winemaking; find intense, flavorful grapes; intrude upon the process only when necessary; draw the fruit's distinctive character and richness into the wine.
Tasting Notes
Aromas of bramble fruit, wintergreen, licorice, and sweet toasted oak. Rich black cherry fruit on entry with elegant chalky tannins, gravel/rock, and ginger root. A layered, sensuous finish.
Method
The first zinfandel was made in 1964, from a small nineteenth-century vineyard on Monte Bello ridge. Since this time, Ridge has championed single-vineyard winemaking, searching California for those rare vineyards where climate, soil, and varietal are ideally matched. Ridge has made the Geyserville as a single-site zinfandel in every year since 1966. The grapes are grown in three adjoining vineyards on a defined stretch of gravelly soil approximately one-and-a-quarter miles long and a half-mile wide.  It is a blend of 71% Zinfandel , 19% Carignane , 7% Petite Sirah, 2% Mataro (Mourvedre) , 1% Alicante Bouschet.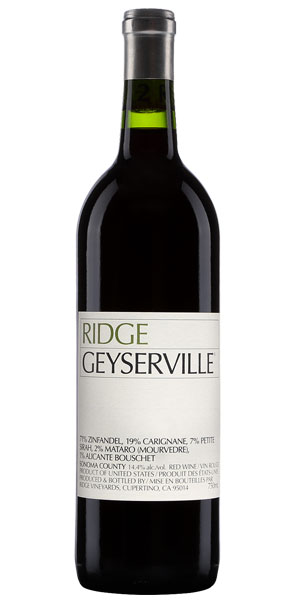 You may also like...