Ridge Estate Geyserville Zinfandel (750ml)
Sub-Region

Alexander Valley

Food Pairing

Pulled porkTurkeyDuck
The history of Ridge Vineyards begins in 1885, when Osea Perrone, a doctor who became a prominent member of San Francisco's Italian community, bought 180 acres near the top of Monte Bello Ridge. He terraced the slopes and planted vineyards; using native limestone, he constructed the Monte Bello Winery, producing the first vintage under that name in 1892. This unique cellar, built into the mountain side on three levels, is Ridge's production facility. At 2600′, it is surrounded by the "upper vineyard."
Though born in the early sixties to the post-Prohibition world of modern California winemaking, Ridge relies on nature and tradition rather than technology. Ridge takes a pre-industrial approach to winemaking; find intense, flavorful grapes; intrude upon the process only when necessary; draw the fruit's distinctive character and richness into the wine.
Tasting Notes
On the nose, aromas of bramble fruit, wintergreen, licorice, and sweet toasted oak. On the palate, rich black cherry fruit with elegant chalky tannins, gravel/rock, and ginger root. Pair with pulled pork, roasted turkey, or even duck.
Method
Made from 71% Zinfandel, 19% Carignan, 7% Petite Sirah, 2% Mataro (Mourvedre), and 1% Alicante Bouschet, the grapes are hand-harvested grapes, destemmed and crushed, fermented on the native yeasts, followed by full malolactic on the naturally-occurring bacteria and oak from barrel aging. The wine spends 12 months in barrel; 100% air-dried American oak barrels (20% new, 2% one year old, 22% two years old, 25% three years old, and 22% four years old and 9% five years old).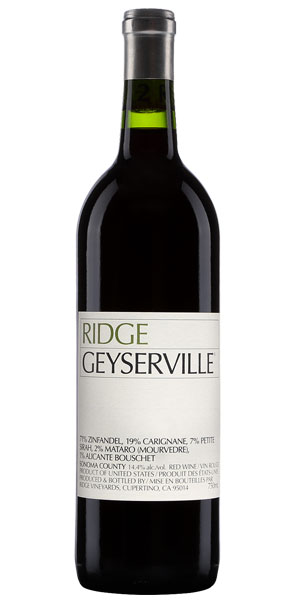 You may also like...