Rieslingfreak No. 33 (750ml)
Food Pairing

AsianHamSpicy Foods
Rieslingfreak was born from a long-running love for the Riesling variety. Established by John Hughes in 2009, Rieslingfreak started as a passion-project and has grown to a portfolio of 11 different Riesling styles. Since the beginning, the mission for Rieslingfreak has been to produce quality Rieslings that best represent both style and region. The Rieslings are crafted to showcase the strength of various South Australian wine regions, including Clare Valley, Eden Valley and Polish Hill River. The collection has been created with each of the Rieslingfreak wines being assigned a number, and the number represents both the region where the grape is grown, and the style of the Riesling in the bottle.
The Rieslingfreak collection includes dry, sweet, sparkling, and fortified Riesling styles. There are not many grape varieties in the world that provides a winemaker the same level of versatility that Riesling does.
Tasting Notes
The wine is made in a generous and refreshing fruit driven style with a soft, velvety palate of exceptional length. It has classic flavors of ripe lemon and lime and some tropical fruit notes. It drinks well young, but will also reward with cellaring.
Method
Rieslingfreak No.33 Clare Valley Growers Riesling is produced from fruit sourced from two growers in the Clare Valley. Situated on the flats in the middle of a valley, White Hutt vineyard has its own very unique microclimate. The vineyard is planted on heavy loam and red terra rossa soil, with limestone subsoil. It is situated 500m above sea level, with an average rainfall of 550mm. The heavy red soils in the vineyard contributing to the fruit generosity seen in this wine. The Polish Hill River in the wine, provides the wine with an acid profile and drive.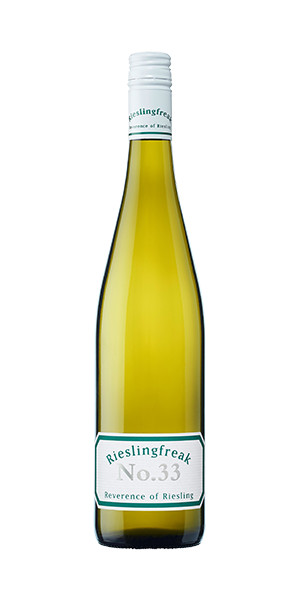 You may also like...