Food Pairing

AperitifCold SaladsSeafood
Sebastiano de Corato founded the Azienda Vinicola Rivera in the late 1940s. He saw enormous viticulture potential in Puglia's Castel Del Monte region and wanted to bring these wines to the attention of the rest of Italy and abroad. Today the estate is still proudly operated by members of the de Corato family.
Pungirossa is made from the Bombino Nero grape. Castel del Monte Bombino Nero DOCG is one of the first, and quite rare, DOCGs dedicated exclusively to the production of rosé. Bombino Nero, the only variety included in this denomination, must comprise a minimum of 90% of the wine. Not only is Bombino Nero a native grape to Puglia, but it is also cultivated only in this area.
This wine receives 24 hours of skin contact at low temperature, followed by a ten day fermentation of the juice. The wine then rests in glass lined cement vats for 2-3 months.
Tasting Notes
Pungirosa is a crisp, refreshing rosé bursting with flavour, with a forward, vivacious fruitiness that makes it a great companion to most dishes. Enjoy it also as a wonderfully appealing aperitif.
Purple-flecked onion skin colour; delicate bouquet with notes of wild rose and cherry; crisp yet smooth palate, well balanced, with a subtle vein of acidity; lengthy, juicy finish. Ripe and fruity, but not sweet at just 2.3 g of RS, this is a dry and lovely balanced rose.
This was recognized as one of the best Italian roses by Wine Enthusiast and Vinous.
90 pts from Vinous Italian wine editor Ian d'Agata
88 pts Wine Enthusiast Magazine with Alexander Peartree mentioning Pungirosa as one of his favourite rosés.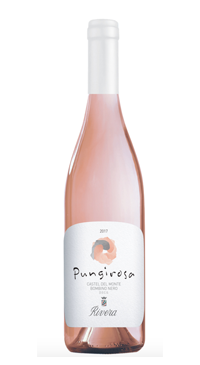 You may also like...