Grape

BlaufrankishGamayPinot Noir

Food Pairing

TurkeyCharcuterieDuck

Farming Method

OrganicAll of our products that are tagged with the term Organic are either organic certified or organic practicing. Learn More
Rosewood Estates Winery & Meadery is an award winning boutique winery located on the Beamsville Bench. Family owned and operated, Rosewood is proud to produce 100% VQA Ontario wines and the first honey wines in Niagara. The winery crafts low-intervention wine, innovative mead, and local honey that reflect their individuality as artifacts of the Niagara Region.
The Rosewood story begins over 80 years ago when R.W. Roman's passion for beekeeping and mead began as a teenager in Ukraine. After arriving in Canada, he continued keeping bees alongside his son, Eugene Roman, who quickly fell in love with the craft. Years later, during Eugene & Renata's honeymoon to Niagara-on-the-Lake, the two fell in love with the region for its natural beauty, people and wines. Here the concept of Rosewood began, as Eugene promised his new wife that one day he would build a winery with her. The winemaking is led by Ryan Corrigan, with previous experience in Napa Vally, Okanagan Valley, New Zealand and Europe before returning home. The team employs traditional, Old-World winemaking techniques with modern equipment to create elegant, textured and balanced wines. They farm organically (uncertified) and apply as many sustainable practices as possible to reduce all emissions and soil compaction in the vineyard.
Tasting Notes
This is a light to medium bodied red cuvée that is delicious served slightly chilled. Bramble berry fruit on the nose with light spicy notes. The palate is snappy and refreshing like Ocean Spray cranberry juice and strawberry rhubarb jam. Dry and crisp and very gulpable. Enjoy with cured meats, chicken or even a fattier meat like duck where the acidity will pleasantly cut the richness.
Method
This is a blend of Pinot Noir (37%), Gamay Noir (34%) and Blaufränkisch (29%).  Rosewood is calling it PTG in homage to the French appellation controllée Bourgogne Passe-Tout-Grains, which is, unlike other Burgundy wines, which are primarily Pinot Noir only, Passe-Tout-Grains  is a cuvée of Pinot Noir and Gamay.  Rosewood has included Blaufränkisch (aka Kekfrancos, aka Lemberger) in their blend.  The wine is wild yeast fermented in stainless steel and ages for 5 months in stainless steel.  Bottled without fining or filtration.  Vegan friendly.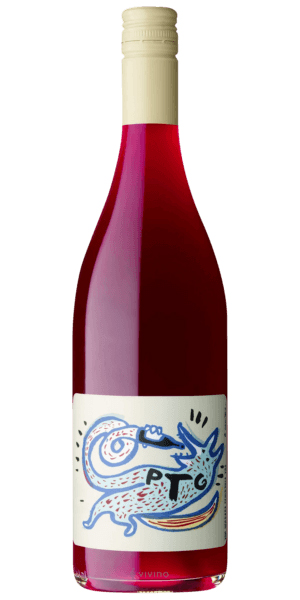 You may also like...