Saint Cosme Hominis Fides Gigondas (750ml)
Food Pairing

GamePorkRed Meat
Saint Cosme – located north to the village of Gigondas – is the most ancient estate in the region (evidence of a Gallo-Roman villa on the site date to 1416!). The diversity of soils and cool micro-climates encourages slow, even and late ripening of grapes. The dedication at Saint Cosme is total; they want to best express the extraordinary potential of the terroir. Years of experience, old vines and organic viticulture are also key contributing factors to the high quality of Saint Cosme wines and their elegant house style.
– Rare and Fine 2018 –
Tasting Notes
The Gigondas "Hominis Fides" exemplifies balance of finesse and depth. The grapes are sourced from 90 year old vines growing in limestone sand rich vineyards of the Miocene era. Aromas of forest floor, mushrooms and sweet fennel. The palate bursts with flavours of strawberry jam and allspice.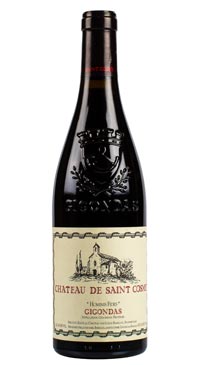 Our Thoughts
A wine that might rival the 2007, the 2015 Gigondas Hominis Fides (100% Grenache from sandy soils located just down from the estate) offers full-bodied, massive and unctuous notes of currants, crushed rocks, smoked meats and licorice. Fermented with 100% whole clusters and aged mostly in older barrels, this sensational Gigondas might end up being the wine of the vintage, from the entire Southern Rhone valley! It has masses of tannin, so it's going to require patience. Unquestionably one of the reference point estates, not only for Gigondas, but for the entire Southern Rhône, Louis Barruol's Chateau de Saint Cosme lies just outside the village and covers 25 hectares, with 15 of those located in Gigondas. He makes a fabulous traditional cuvee that has the ability to age for 10-15 years, as well as four single vineyard releases that are primarily Grenache. These single vineyard releases are year in, year out, some of the most impressive wines from the Rhône valley. The winemaking is a mix of modern and tradition, with the wines never destemmed but aged in barrels. Looking at these latest 2015s, Louis bet me a symbolic dollar that these would surpass his 2007s. I think I might win the bet, but not by much, and I'll certainly be thrilled to lose. Either way, these are undeniably great wines that readers should buy as much as they can afford. – Robert Parker