Samuel Smith – Imperial Stout (355ml)
Beer Style

Imperial StoutThese beers have complex malt bills, often with several types of dark malts that create very rich, and intense flavours. Learn More

Tasting Notes

ComplexMaltySmooth
The Samuel Smith brewery in Tadcaster was founded in 1758 and is Yorkshire's oldest brewery. Samuel Smith is one of the few remaining independent exporting breweries in England and is the last to utilize the classic Yorkshire Square system of fermentation solely in stone (slate) squares.
The rich Samuel Smith strain of yeast at the brewery dates from the early 1900s. Hops are hand-weighed by the master hop blender, and the brewing water is drawn from the original well, sunk over 250 years ago.
Samuel Smith produces over a dozen beers, but they are most known for their ultra-traditional English ales. The Organic Pale Ale, Taddy Porter, Oatmeal Stout, Imperial Stout, and Nut Brown are all considered some of the world's best examples of their styles and are often seen as the benchmark in their categories.
Tasting Notes
Pouring dark black with ruby tinges, this stout has robust aromas of dark chocolate, roasted barley, espresso, molasses, treacle, and herbal hop notes. The palate is rich in texture, with many of the same notes as the aroma. The fermentation in stone squares lends an almost refreshing mineral component in the mid-palate that ends in a warm, complex finish.
Method
Imperial denotes the elevated alcohol content, often between 7.0% and 12% ABV. Can be brewed with English hops if the sub style is English Imperial Stout, or with American hops if the sub style is American Imperial Stout. These beers have complex malt bills, often with several types of dark malts that create very rich, and intense flavours. 
Winning numerous awards around the globe for stylistic accuracy, taste, and balance. Samuel Smith Imperial Stout is considered one of the finest English Imperial Stouts in the world.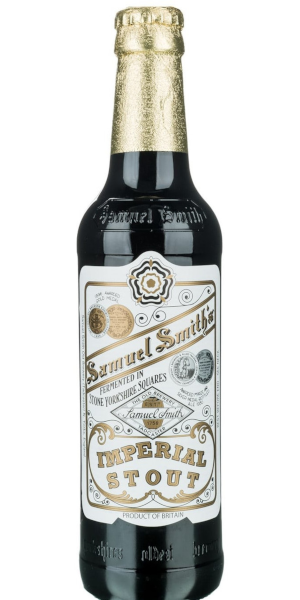 You may also like...