Schoolhouse Early Dismissal Kolsch (473ml)
Schoolhouse brewery was once the smallest brewery in the province, brewing from an old schoolhouse in the valley turned homestead. Over the years Cam, the owner, build his brand up and moved to a full production brewery and taproom near the waterfront in Windsor, NS.
Tasting Notes
Easy going lager-like aromas of fresh bread dough, water cracker, and biscuits that are balanced with subtle fruity and floral aromas. The palate has pleasant and balanced flavours of light malts, and subtle spicy hop character. The mouthfeel is light and refreshing with moderate carbonation and a crisp, dry finish.
Method
Kolsch is the famous style from Cologne, Germany. When the Pilsner wave took Europe by storm it made a lot of small towns change their brewing technique to mimic the new golden beers coming out. So brewers in Cologne brewed a golden ale, and then lagered it at cold temperatures for longer periods of time to crate a new style known as Kolsch. Slightly richer than a lager, and with subtle fruit components, but with a much more crisp and refreshing mouthfeel.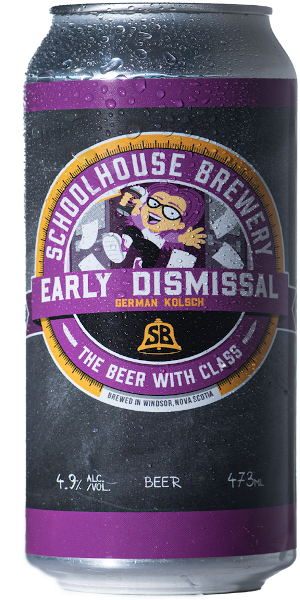 You may also like...