Schoolhouse – Principal Pale Ale (473ml)
Beer Style

American Pale AleThe beer style that launched the craft beer movement! Characterized by floral, fruity, citrus-like, piney, resinous American hops. Learn More

Tasting Notes

BalancedCitrusSmooth
Schoolhouse brewery was once the smallest brewery in the province, brewing from an old schoolhouse in the valley turned homestead. After a few years the brewery had grown as much as it could in the Falmouth Schoolhouse location, and while it has since been moved, it has the story and character with it. You will now find Schoolhouse Brewery in its new home not far away in beautiful Downtown Windsor. The new location boasts a unique school themed taproom and kitchen as well as a bottle shop, dog friendly patio and of course, the brewery itself.
Tasting Notes
Canadian Beer Awards 2022 – Silver Medal Winner – North American Style Pale Ale
The Principal Pale Ale is an 'aromatic' pale ale; having an aroma similar to an IPA but with the approachability of an American Pale Ale. Highlighting hop flavour and aroma without overdoing bitterness, the Principal has a light body and crisp finish making it a very refreshing beer.
Notes of pine, guava and green mango make this beer a
pproachable and well balanced between refreshing and flavourful, this beer is perfect with a thick rich pasta or heavily seasoned BBQ.
Method
A well made, easy drinking everyday pale ale. Brewed with American hop varieties to give complex citrus and herbal notes, and the bitterness is kept low as to not overpower but still there enough to add some clean cut snap. Schoolhouse just picked up a silver medal for this beer in its style in the Canadian beer awards – that's a big deal!
Our Thoughts
Sometimes I want to sip a beer that has a bit more hops than an ale or lager but isn't quite as prickly as a West Coast IPA; the Principle Pale Ale hits right in the middle. The lightness of the beer itself, combined with juicy peach and herbaceous green tea notes, makes this as thirst-quenching and aromatic as I want a pale ale to be. This is one of my top APAs!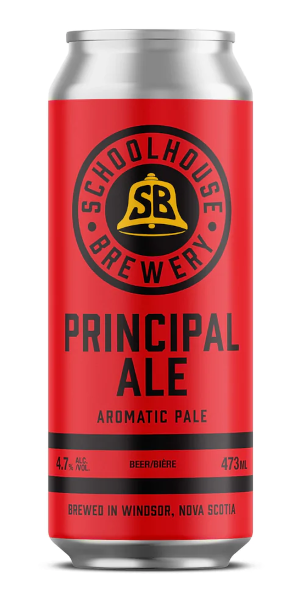 You may also like...