Schoolhouse Staffroom Stout (473ml)
Schoolhouse brewery was once the smallest brewery in the province, brewing from an old schoolhouse in the valley turned homestead. Over the years Cam, the owner, build his brand up and moved to a full production brewery and taproom near the waterfront in Windsor, NS.
Tasting Notes
Though its cascading, rich black colour will be familiar to Stout enthusiasts, Staffroom Stout is decidedly different. The generous addition of organic cold-brewed coffee from the brewery neighbours at T.A.N. Coffee yields a nose of espresso, leading to rich flavours of chocolate and roasted coffee bean. Flaked oats provide a well-balanced, creamy body, leaving only a mild bitterness on the finish.
5.5% abv
Method
Stouts have always been a favourite to add various additives to enhance and enrich certain flavours and textures. The Staffroom Stout employs two – both coffee and flaked oats.
Cold brew coffee is added to bump up the chocoately, coffee-like flavours found in the beer. And flaked oats are commonly added to create the "Oatmeal Stout" style, oats added to beer help create a more creamy, smooth texture.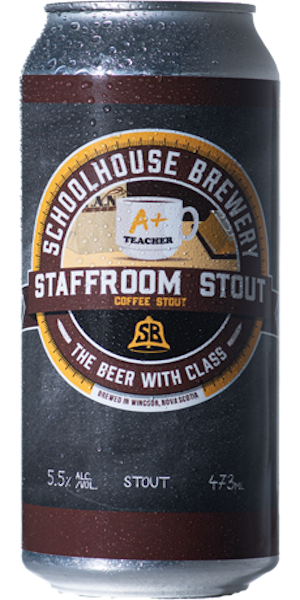 You may also like...